Why choose Petro?
Trusted local heating oil company.
Petro Home Services customer service professionals, drivers and heating oil technicians are all local. We live and work where you do, so we understand, support and service your heating oil and other home comfort needs better than any other oil company, whenever you need us, 24/7, all year.
Full-service home heating oil provider.
Petro proudly offers a full range of home heating oil services throughout the East Coast, Mid-Atlantic and Northeast.
Heating oil delivery.
Throughout all our locations, you can count on Petro to make your heating oil delivery! Petro has the resources required to ensure we never run out of oil, reliable automatic delivery service so you never miss a fill and around the clock service so you always get your heating oil delivered, even through the toughest winter weather!
24/7 heating oil emergency services.
Even in the harshest winter storms, you can count on Petro to deliver your heating oil. Our technicians understand that disasters and other emergencies happen but you can trust that Petro will be standing by to ensure your family stays warm this winter. Visit our emergency weather service page for more information on this service.
Heating oil pricing and payment plans.
Our heating oil pricing plans are all designed with you in mind, to help you manage your heating costs all year, and there's no enrollment or sign-up fees!
Heating oil pricing plans include: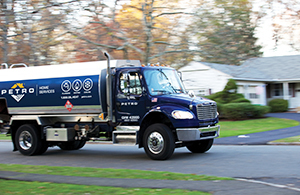 Heating equipment sales and installation.
Petro Home Services offers home heating systems and installations. Improve your home's value and save money on your energy bill with a more efficient system when you choose to purchase and install a new home heating system from Petro Home Services. Check out our special offers page for the latest coupons and deals on home heating equipment.
Schedule your heating equipment consultation today by calling 888.735.5651!
Other heating oil services and products.
What our customers are saying about us
"We had just moved. We had never had propane or oil before. They walked me through everything having to do with pricing and service plans, put a rush on both the oil delivery and propane delivery, and made this a hassle free and pleasurable experience."
- Jim M.
"My prior supplier never delivered my order or returned calls. I ran out of gas and contacted Tank Farm who set me up with Petro. Petro immediately responded with a full system test, inspection and filled my tank. They stayed and made sure all of my systems were back up and running. When my furnace wouldn't start from being run dry, they took the extra time to get it going again. Their price was even better than my old company and no extra fees. Very happy with Petro and saving money."
- John M.
Learn more about heating oil
Schedule your home heating oil services by calling 888.735.5651 today!