Whole-house generator sales and installations.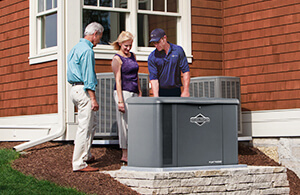 Backup generator sales and installations.
If your home or business suddenly loses power, it can be incredibly disruptive. To avoid this, Petro recommends every homeowner should have a whole-house backup generator.
Offering a wide variety of options to our customers, our generator sales and installation services are some of the best in business. Petro technicians are industry professionals who are trained to provide professional installation and service for Briggs & Stratton and other leading backup generator manufacturers.
Our generator services.
We are a leading installer of high-quality whole home generators but our services don't stop after sales and installation. If your generator needs urgent repairs or routine service, you can count on us to deliver the best service. Our maintenance technicians are specifically and professionally trained to provide high-quality generator repair services, 24-hours a day, 7 days a week.
We offer the following services:
Generator installation
Generator repairs
Generator tune-ups
Generator sales
Generator equipment
24/7 emergency services
Schedule your generator services today! Contact Petro Home Services at 888.735.5651.
Generator sales.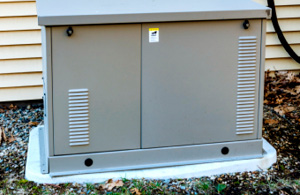 We offer sales for backup generators from major brands. With competitive prices, our goal is to provide whole-house generator solutions to keep every household up and running during power outages.
Purchasing a standby backup generator.
Acquiring a quality and efficient whole-house electrical generator shouldn't be stressful. That's why you can count on our team to assist you in purchasing the perfect generator for your home.
Not sure if you need a backup generator for your home? Learn more about the benefits of backup generators.
Whole-house generator installation and service plans.
Our home installation consultants will assist you in choosing the right location to install your generator and prepare the site with pea gravel or concrete slab before installation.
There are numerous factors that can affect the cost of installing a backup generator, such as the size, type of generator, start type, and power source. Consider the amount of power you will need during a power outage before selecting the backup generator for your home. Our experts can help you with the technical analysis to choose the best option to suit your needs.
Once your generator is installed, proper maintenance is required to ensure the longevity of the appliance. One of the best ways to do this is to get a service plan. Learn more about the best generator maintenance service plan from Petro.
Generator FAQs.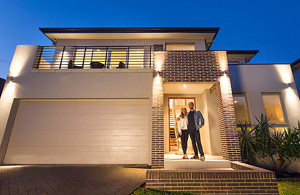 Why should I buy a whole-house backup generator instead of a portable generator?
To keep your home and life up and running during a power outage, for important devices like computers, home appliances, televisions, medical systems and more, then a larger whole home generator is the smartest option. Whole–house generators have a longer life that will also help keep things like sump pumps running during power outages, which can help prevent flooding and damage to your home.
While whole-house generators may be a more expensive option, they are the most reliable, no-fuss, easy-to-use power backup option for any homeowner.
Where is the best place to install a generator?
We recommend installing the generator in a properly ventilated area at least 15-20 feet away from the main building. Either close to your garden shed, garage, or on a concrete pad. These are all safe and secure places to install your generator.
How long does it take to install a generator?
A regular air-cooled whole home backup generator can take up to 24-hours for complete installation. In contrast, liquid-cooled generators could take more time to finalize the installation. However, if a concrete pad is required during installation, it will need 24-48 hours for the concrete to dry properly.
Do generators have to be maintained?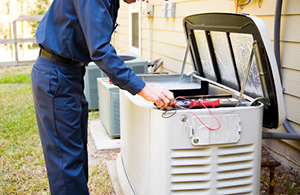 Yes! A backup generator requires the following routine services:
Checking oil levels
Replacing engine oil
Monthly coolant checks
In-depth inspection every 6-12 months
Learn more about which service plan is the best generator maintenance service plan for you.
Call 888.735.5651 and schedule an appointment today for more information about Petro generator services.