Our Woonsocket depot covers all of Woonsocket and its surrounding areas. Petro Home Services also has depots located in Warwick, Providence, East Greenwich, and Tiverton. We're the only local company that you need to know for home services, including heating oil, propane, natural gas services, air conditioning, plumbing, generators, duct cleaning services and more - all backed by 24/7 support in any weather! Petro also provides a wide range of service plans and repair services including air conditioning repair, propane tank and heating repairs, gas and oil heating repair, and more.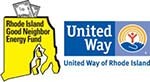 Help the Less Fortunate Pay Their Heating Bills - Donate Today
The Good Neighbor Energy Fund provides assistance to Rhode Island households that are unable to pay their energy expenses due to financial difficulty. Petro Home Services is proud to be a sponsor and is working with the fund to help keep our neighbors warm. The winter campaign "Warm Thy Neighbor" is well underway and gifts are appreciated. Do you want to help?
Click on the link to donate to this great cause: https://www.uwri.org/gnef/