Professional AC replacement.
Schedule your call today!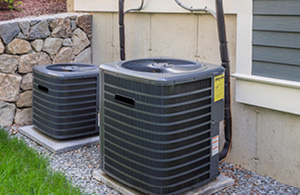 If you are considering replacing your HVAC system, the experts at Petro Home Services are always here for you. From consulting with you on the right AC system and correctly sized system for your home to quick and easy installation, our experienced team will help you every step of the way.
Contact us to schedule your AC replacement service! 888.735.5651
What to expect with our AC replacement services.
Friendly consultation.
Our AC replacement experts are here to help you decide which HVAC system is right for you and your home. Our dedicated team can sit down and go over the following touchpoints to narrow down the perfect AC to replace your old unit.
Match your options to your budgetary needs
Review your family's energy-saving goals, comfort needs and air quality concerns
Calculate the correct size HVAC system needed to cool your home
Explain various features offered such as temperature control systems and efficiency
Recommendations and estimates.
Once you have determined the best fit for your home, our experts will offer you their recommendations and estimates.
Delivery and installation.
When you're ready to move forward with the process, we'll go ahead and place the order and set an installation date that is convenient for you. Our service technicians will bring all the parts and supplies necessary to replace the new unit.
How long do AC systems usually last?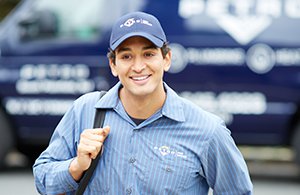 Many factors such as regular maintenance and quality installation can affect how long your HVAC system lasts. In general, HVAC systems should last between 15-25 years.
Warning signs that it's time to replace your AC system.
Pinpointing the perfect time to replace your AC system can be difficult. We've compiled the following to help you identify that it might be time to replace your AC unit.
Age – if the system is over 15 years old, it might be time to consider replacing your unit; advances in technology could mean that a new system has come onto the market that could save you up to 40% on cooling costs, according to the U.S. Department of Energy
Frequent breakdowns – when an HVAC unit breaks down more than twice in the span of two years it could be a sign that it's time to replace the unit
Costly repairs – replacing parts like blower motors, compressors and condenser coils can be more expensive than it's worth, if the cost of the repair exceeds 50% of the new AC unit, we suggest considering a replacement
Increasing energy bills – as AC systems age, they become less efficient, requiring more energy to cool your house to a comfortable temperature; if you notice a steady increase in AC costs, it might be time to consider a new AC system
Save money on cooling costs by replacing your AC.
If you're ready to replace your AC, our team of experts are standing by! Call to schedule your appointment. 800.645.4328