Storm and hurricane preparedness for homeowners.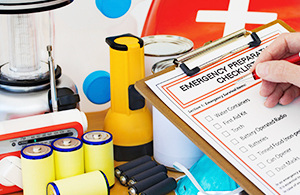 Hurricane season along the Eastern and Mid-Atlantic seaboard traditionally starts on June 1 and continues through November 301. Those who live in the area should be thinking about what they can do to make sure that they are prepared for any weather scenario Mother Nature unleashes on us.
While hurricanes represent one of the most extreme weather conditions homeowners must prepare for, other types of storms can also cause significant damage to your home. We've compiled some important tips and advice to help you make sure that you're prepared for any type of storm – especially if the weather is severe enough to take power out for several days.
Always monitor weather advisories.
Listen to weather advisories and heed warnings.
Sign up for local alerts. Most county emergency management offices have a text messaging system that residents can sign up for so they are alerted of weather situations. You can also download emergency apps from NOAA and the Red Cross. Send the text message HURRICANE to 43362 (4FEMA)2 to be notified of safety tips and other important information.
How to prepare for a storm while inside your home.
Invest in an NOAA Emergency Weather Radio. An emergency weather radio will alert you when an emergency weather situation is imminent, even if you're asleep or don't have power. Many devices can be charged with external battery packs that charge cell phones, or with hand cranks.
Pack an emergency readiness kit for the entire house. That should include non-perishable food, flashlight, batteries, plenty of water, hand sanitizer, blankets, clean clothing, paper plates, and plastic utensils and cups, pillows and medications.
For areas that are prone to power outages, a whole house or standby generator can be a valuable asset. If you want to use a generator, don't wait until just before the storm to purchase or test one. Think about how you intend to use it, how long you may need to use it because of power outages, and how you can safely store it during the storm. Talking to a licensed professional can help you decide which generator is best for your needs. Having a generator can be a huge advantage, but it's only beneficial if you know how to use it safely. Get a backup generator with help from Petro
Pack evacuation kits for every family member, in case you're forced to evacuate your home. You should place legal, financial, and insurance documents along with health records, the title to your home and cars, marriage licenses, and other important documents and papers in a storm and fireproof box that you can easily grab when you evacuate.
If you're not evacuating, turn your refrigerator up to the highest setting. The Red Cross suggests that you freeze leftover food, deli meats, cheeses, and milk because freezing these foods will prevent them from being exposed to a temperature above 40 degrees Fahrenheit for more than two hours.
If there is any chance of flooding, turn off your electricity as a safety measure. The combination of water and electricity is very dangerous.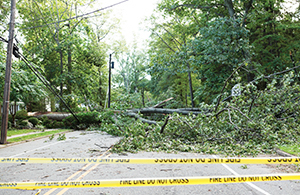 Don't wait until the storm season to try to have your gutters cleaned. Clogged gutters can lead to expensive gutter repairs and water damage to your walls, basement, and foundation.
Have a roof inspection done to make sure you don't have loose or broken roof tiles, and that everything is sealed tightly so you don't get flooded from the roof. If you have a basement, you need to unplug appliances, water heaters and remove anything you can remove from the basement, just to minimize the extent of the damage you sustain.
If you have large trees that are close to your house, consult with an arborist or tree care specialist to make sure that the tree won't fall on your home.
Make a plan so you can put outdoor furniture in your garage or basement. Create a space where you can put anything else that might turn into a projectile.
Bring large garbage cans in the garage or another protected area so they don't become projectiles.
Download FEMA's Guide to Hurricane Preparedness. The guide covers everything from gathering supplies to ways to protect your home. It also has important information about dealing with the aftermath of a major disaster.
How to prepare for thunderstorms and lightning.
The combination of thunderstorms and lightning is another dangerous threat to homeowners. Take precautions to safeguard your house and your family members before the storm. A helpful resource that explains the dangers and how you can protect yourself is the U.S. Department of Commerce preparedness guide on thunderstorms and lightning.
Trust Petro when you and your home need it most.
With years of experience providing homeowners valuable expertise, support, and quality services under our belts, Petro is always happy to share tips for times where things are out of our hands like storms. Learn more about Petro's emergency weather services for help when the next major weather event hits.

1Hurricane Research Division, Atlantic Oceanographic & Meteorological Laboratory
2FEMA http://www.fema.gov/media-library/assets/documents/98105
Petro Home Services is proud to not only serve communities in DC, CT, MA, MD, NJ, NY, PA, and RI but we also proudly acknowledge the skills and experience of our expert team behind all resources. With insights on topics ranging from heating oil facts to common air conditioning questions, you can rely on Petro Home Services for facts and information to help you understand more about your heating, cooling and home comfort needs. This article and all articles on the Petro Home Services website have been approved by our team of home service experts.