Home generator tips and important safety information.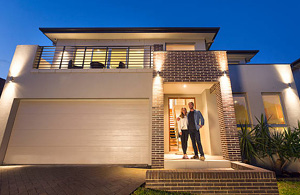 Whether you're thinking of buying or installing a backup power generator or you already have one, there are a number of points that you need to think and know about:
Portable generators.
Know what critical elements in your home you're trying to back up because that will determine what size generator you need to buy.
At the top of most people's lists are refrigerators, freezers and well pumps. The amount of gasoline a portable generator uses depends on how long it runs and its size, but in general, it's smart to buy at least 5-10 gallons of gas to keep your generator running for more than a day.
Consider also buying a fuel stabilizer to put in the tank when the storm is over to prevent the gasoline in the tank from breaking down and clogging the jets in the carbonator.
If you store your portable generator outside, make sure it is covered.
If you already have a portable generator but haven't used it in a while, don't wait until any storm hits to find out if it will run. Top off the tank, check the oil and test it if there's a storm a few days ahead in the weather forecast.
If a generator doesn't start, call a service contractor.
Keep in mind that most portable generators under 5,000 watts use a pull cord to start the engine. If this will tax you physically or is challenging for you, consider a model with an electrical start.
Permanent standby generations can be hooked up to your natural gas service or propane tanks can be installed to provide fuel. The size of the generator and tanks, like the portable units, depends on how many items you want to keep running and how long it's in operation.
Whole house power generators.
We recommend an onsite consultation for the installation of a permanent whole-house unit. Have us come to your home, analyze the power load and we'll run through the 'wish list' of what you want to be able to operate when the power goes out.
Installation requires a space large enough to place the unit, preferably 5 feet by 3 feet and 2.5 feet tall. It should also be located near the electrical service in the home.
If the unit is propane-fuel powered, a typical generator has either one or two 100-gallon tanks, another space consideration.
If you have a whole-house generator, it should be serviced once a year.
Generator use health and safety tips.
Please take EXTREME caution when using your generators. Some simple steps to prevent the loss of life and property resulting from improper use are:
Always use generators outdoors, away from doors, windows and vents.
NEVER use generators in homes, garages, basements, crawl spaces, or other enclosed or partially enclosed areas, even with ventilation.
Follow the manufacturer's instructions.
Install battery-operated or plug-in (with battery backup) carbon monoxide (CO) alarms in your home, following the manufacturer's instructions.
Test CO alarms often and replace batteries when needed.
Keep the generator dry. Operate on a dry surface under an open, canopy-like structure.
Dry your hands before touching the generator.
Plug appliances directly into the generator or use a heavy-duty outdoor-rated extension cord. Make sure the entire extension cord is free of cuts or tears and the plug has all 3 prongs, especially a grounding pin.
NEVER plug the generator into a wall outlet. This practice, known as backfeeding, can cause an electrocution risk to utility workers and others served by the same utility transformer.
If necessary to connect the generator to house wiring to power appliances, have a qualified electrician install appropriate equipment. Or, your utility company may be able to install an appropriate transfer switch.
Before refueling the generator, turn it off and let it cool. Fuel spilled on hot engine parts could ignite.
Always store fuel outside of living areas in properly labeled, non-glass containers.
Store fuel away from any fuel-burning appliance.
Petro Home Services is proud to not only serve communities in DC, CT, MA, MD, NJ, NY, PA, and RI but we also proudly acknowledge the skills and experience of our expert team behind all resources. With insights on topics ranging from heating oil facts to common air conditioning questions, you can rely on Petro Home Services for facts and information to help you understand more about your heating, cooling and home comfort needs. This article and all articles on the Petro Home Services website have been approved by our team of home service experts.