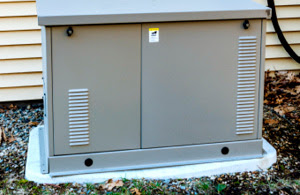 When you live in an area at risk for hurricanes, floods, or power outages, it's worth knowing how to use a backup or standby generator. When there's no electricity for a prolonged period, a generator is an essential stopgap so that you and your family have some power. It's the difference between waiting out a crisis with the ability to preserve and prepare food, heat water or run the air conditioning or being at the mercy of the elements. However, it's equally important that you know how to use a generator safely.
What type of generator do you have?
There are several different types of generators to choose from. Generators are typically either portable or standby types, and differences include power and the duration of intended use. That said, standby generator safety and portable generator safety practices have more overlap than differences.
Portable generators.
A portable generator is generally smaller and runs at a lower capacity compared to a standby generator. They're perfectly suited for camping trips, outdoor weddings, and other events where you'll temporarily need electric power in a remote location. Nuances of portable generator safety include the need to cover them if there's a chance of inclement weather, or the fact that you should avoid refilling them when hot. Some portable generators are suitable for powering your home temporarily during an outage, but at Petro, we recommend standby generators as a more reliable choice. While we still feel it is valuable to share with you all types of generators available, Petro presently supplies and installs only standby generators.
Standby generators.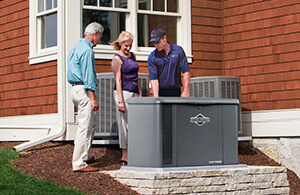 These powerful generators standby and automatically kick-in to provide power when your home's connection to the grid fails. A standby generator is permanently installed outside the home while a portable is not permanently installed. Businesses and homeowners who live and operate in hurricane risk areas are likely owners of standby generators. That said, anyone can keep a standby generator on-hand just in case, if they understand standby generator safety issues first.
Home generator safety tips.
1. Read the manual.
Reading your generator's manual is one of the easiest ways that you can practice good generator safety. It can help you quickly identify any potential problems and verify that it has been installed correctly. In general, reading the manual will provide you with a great deal of important information that can help you avoid problems.
2. Isolate your backup generator.
If you intend to power your home with a generator, then make sure to install a transfer switch. A transfer switch removes your home from the power system and is essential for regulating generator power properly.
3. Do not backfeed.
If you don't use a transfer switch or simply plug your generator into a wall outlet, you're likely to backfeed power. When you do this, you run a high chance of breaking your generator, starting a fire, or sending power back down the utility lines that could potentially harm the workers who are attempting to repair them.
4. Do not run indoors or in partially enclosed spaces.
Standby generators should always be installed outdoors. Carbon monoxide poisoning is a serious risk and leaving doors and windows open will not mitigate it from happening. In fact, it's dangerous to run a generator near open doors, windows, and vents or in a partially enclosed space, so avoid having your generator set up near these locations. As always, ensure you have an operating carbon monoxide detector in your home, even if you don't have a standby generator.
5. Keep an eye on your fuel usage.
When using a generator to power your home during an extended power outage, it is important to follow the manufacturers' guidelines for maintenance. For example, in the case of Briggs & Stratton standby generators, it is crucial to change the oil being used after first 5 hours of use, checking the oil every 8 hours, and changing the oil again every 50 hours of use.
6. Practice good power management.
Even if your generator can meet all of your power needs, it's best to minimize power usage when you're dependent on a generator. Minimizing your use of electrical appliances will enable you to run further with the amount of fuel you have available.
7. Understand your power needs.
If you intend to power your home with a generator, you need to understand your specific appliance or utility needs and choose a generator powerful enough to meet them. Before purchasing a generator for your home, be sure to discuss with a professional what size generator would be best for your home.
8. Keep a fire extinguisher close by.
Always have a fire extinguisher in your home that is easily accessible for use in the event of a fire, especially if you are running a home generator.
Seek a professional opinion.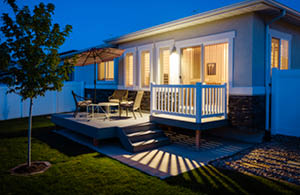 It's always a good idea to seek out the opinion of a professional who can examine your generator setup, make sure that it's installed properly, in good working condition and doesn't pose any safety risks. Over time, generators may begin to show a range of worrying signs that mean you should contact a professional to look at. These can include low coolant level alarms, automatic shutdown, or a generator failing to start.
If anything seems to be wrong, then you should refrain from using the generator and call a professional. If you identify an issue, under no circumstances should you attempt to repair it on your own. If you need advice or guidance on how to use a generator, contact a trusted expert in the field. You can always give the experts at Petro Home Services a call for inspection, maintenance, and any other home generator support needs.
We're your go-to resource for generator services.
Petro Home Services is a reputable business that handles heating, cooling and generator services. We specialize in the use of oil or propane for heating and power generation but Petro Home Services can handle much more. We're happy to help in a wide range of areas including, but not limited to:
24/7 emergency support in any weather
Heating system installation
Natural gas, heating oil, and propane services
Boiler and furnace repair
AC system installation, tune-ups and repairs
Water heater installation and repairs
When you need home generator repairs, you should always get in touch with the experts. Find a Petro Home Services location near you. For any generator or other HVAC services, call any time for Petro to help or request a free quote: Sales 888.735.5651 or Service 800.645.4328