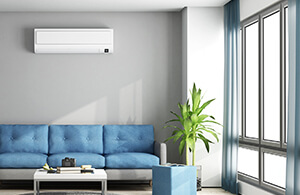 The air conditioning in your home keeps things comfortable during the hot summer months. But not all air conditioning systems are created equal.
Ductless mini-split air conditioning systems are one of the most popular types of AC systems today, and for good reason.
The reason ductless mini-split air conditioning systems are so popular is because of their customizability. If you're someone who just can't stand the heat, you can blast the air conditioning system. Alternatively, someone else can create a milder climate in another room.
Mini-split ductless systems also last anywhere between 12 and 15 years, which is far longer than stand-alone and wall-mounted units. Additionally, mini-split ductless systems are less expensive than central air, and are far more dependable than cheaper window-mounted units. Lastly, they provide a high-level of air quality as each wall-mounted AC unit contains a filter.
While it's clear that mini-split systems are great for keeping your home comfortable, this article will dive deeper into more reasons why you should consider a ductless system.
What is a Ductless Mini-Split Air Conditioning system?
A ductless mini-split air conditioning system uses a simple, ingenious approach to cooling your home.
An outdoor condenser draws in air from the outdoors. That air is funneled through piping–not ducts, which are expensive to install–that delivers the right amount of cold air to each room.
Comfortable air is supplied through units mounted directly into the wall. Each unit typically has its own thermostat, so you can customize temperatures in each room throughout the house.
Custom-Zoned comfort with even temperature distribution.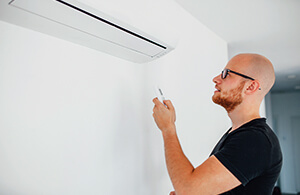 One of the most beneficial features of ductless mini-split air conditioning systems is control. Each individual room, outfitted with its own wall-mounted unit, is cooled to the temperature you set it to by a thermostat.
Each room is consistently comfortable because air is not flowing between spaces. But, this does not mean that comfort is limited to only certain rooms of the house.
You are able to regulate temperature throughout your whole home with a central unit. If you do not want to install a central unit, you can simply keep doors open in rooms that possess a wall-mounted unit.
Cost savings and energy efficiency through minimal energy loss.
The ability to regulate temperature on a room-by-room basis makes mini-split air conditioning systems energy-efficient and cost-effective.
Mini-split ductless systems only use as much energy as needed to keep each room at a comfortable temperature. As opposed to cooling spaces unevenly, or cooling large spaces at once, this type of air conditioning system controls multiple temperature zones independently of one other.
Minimal energy loss is also achieved because of the lack of large duct systems. Ductwork requires large holes made in walls for installation. Often when ductwork becomes loose, a large amount of energy is wasted.
Ductless mini-split systems use piping that is run through the walls, connecting directly to the wall-mounted unit. This piping is no more than a couple inches in diameter, and these leaks can be easily repaired.
Easy, flexible installation in different types of homes.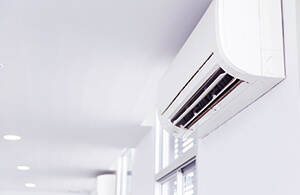 A ductless air conditioning system is an easy type to install. With ease of installation comes lower prices!
Standard central air conditioning systems are labor-intensive to install. This is, in large part, due to the significant amount of ductwork that needs to be built within the walls of your home.
Ductless mini-split air conditioning systems require only mounting a wall unit, and running piping from the outdoor compressor to the indoor unit. Without having to construct ductwork, the labor involved in installing a ductless system is minimal.
Precise cooling or heating in one system.
The precision with which you can cool your home is a major benefit of ductless mini-split systems.
Thermostats in each room allow for zone-specific temperature control. That means specific temperatures are achieved within small spaces, as opposed to your entire home. This requires less energy, and results in greater temperature precision.
In the winter months, the heat pump can convert cold air into warm air to heat your house. The precision and efficiency enjoyed for cooling your home is the same when the mini-split system is heating your home!
Air quality improvement and allergy control.
Ductwork notoriously collects allergens over time. This causes one of the major problems with central air conditioning systems, which is air quality.
Ductless mini-split systems do not have this problem. The lines that supply air from the outdoor condenser remain clean through a network of filters, providing fresh and allergen-free air to your home.
Silent operation.
Everyone knows that window units are loud and uncomfortable. But with ductless mini-split systems, you don't have that problem.
The wall-mounted units do not produce sound on their own. All the sound comes from the condenser outside, which means noise doesn't reach the interior of your home.
Targeted humidity control.
Zoned temperature control has another benefit. Humidity comes into the home through moisture inside and outside the home, mixed with higher temperatures.
In areas where humidity is coming into the home, you can adjust your mini-split AC system to cool those areas more completely. Cooler air is dryer air, which means you can cut down on the humidity of your home just by changing the temperature.
Smaller size and minimalist design.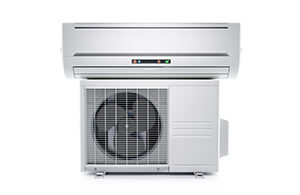 Among all the benefits of ductless mini-split AC systems, one that is often overlooked is that of aesthetics.
Mini-split AC systems are designed to be simple and easily integrated into home décor. You can hide the wall-mounted system behind a fixture or a piece of furniture.
We're here to help.
Regardless of what kind of air conditioning system you choose, having the right professionals to support you is crucial.
We, at Petro Home Services, know air conditioning systems inside and out, including mini-split ductless air conditioning systems. Each home requires its own custom solution, and that's where our professional HVAC technicians come in.
With a complete home analysis, we develop comprehensive recommendations for how to create a comfortable home for you and your family. Whether it's a mini-split system, or other types of air conditioning systems, we've got you covered.
Contact us today to find out how we can save you money on energy, and make your home a more comfortable place to live.