Plumbing tips and helpful information.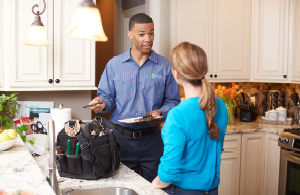 Plumbing problems can happen in any home, at any time and for lots of different reasons. Knowing how to prevent them is key to preventing damage. However, taking care of plumbing problems yourself can often lead to more issues and make things much worse.
The general rule of thumb with ANY plumbing problem that appears challenging is to always have a professional take care of it for you, especially if you smell gas or if your water heater is making odd sounds.
However, you can use the following helpful information and plumbing maintenance tips and advice to help you know how to take care of your home plumbing system, understand more about its components and find out when it's time to call your plumber!
Need a Plumber? Call 800.645.4328 today!*
Plumbing terms glossary.
Petro has a glossary of useful terms, part names, and device explanations to help you fix your own plumbing issues as well as more effectively communicate with plumbing professionals.
Plumbing maintenance and prevention tips.
Plumbing maintenance checklist and tips for homeowners
While you can rely on our experienced team for fast and reliable home plumbing services, from the smallest leak to complete bath and kitchen remodeling, use this checklist to make sure that your plumbing system is in good shape.
Plumbing maintenance checklist and tips
Find a reliable plumber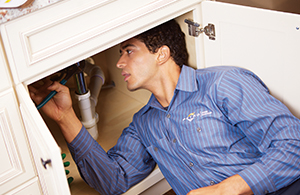 Schedule periodic checkups and routine maintenance
Make sure to do this with all your home's systems, including your water heater and heating and cooling systems; each has a reasonable lifespan.
Turn off water to your washer and water heater when you leave on vacation. Know how to protect hose bibs and pipes from extreme cold.
Things can go awry without warning, however, so it is wise to locate the main cut-off valves. At a minimum, know:

The location of the main water supply line
Location of the main water cut-off valve, and how it operates
Location of main sewer line and cleanouts
The type of heat, hot water and air conditioning you have (whether it's electric, natural gas or propane)
Water supply valve locations for sinks, toilets and major appliances.
Install a whole home water filtration system
Many chemicals and heavy metals that are in tap water can cause or accelerate problems in your home's plumbing.
Buildup from unfiltered water can eventually cause blockages in pipes or reduce their lifespan.
Installing a water filtration system also provides pure and safe water for people living in the house.
Plan for emergencies
Know how to tighten a faucet or run an icemaker line, how to check the supply and drain lines on your dishwasher.
Learning the best ways to clear simple blockages can save you time, money and frustration if your problem is a small one.
Knowing a few simple fixes will also help you to troubleshoot what may be a larger problem, and help you decide when to call in a professional.
Supply lines under pressure
The reason water appears instantly at your tap is that supply lines are under pressure. That means that a slow leak or an annoying drip can become a spewing geyser before you can reach for a "cork."
By regularly checking faucets, both hot and cold lines, you should be able to spot problem areas before you have a flood on your hands. Remember that faucets are designed to operate easily. Avoid turning them too tightly during normal use.
If you use tools to make adjustments, monitor your repairs until you are certain that all is well.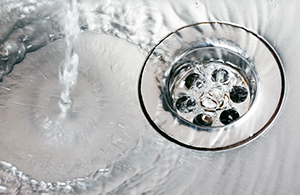 Avoid minor blockages
Do not put things in drains that don't belong there.
Try to prevent hair in the tub or shower from going down the drain.
Do not pour grease down the kitchen sink, even if you do run hot water at the same time!
Avoid fibrous roots (like celery and cabbage hearts) onion skins, potato and carrot peels, and sticky goo in the disposer; and be wary of coffee grounds and rice. It's better to put some things in the compost pile or the trash!
When a drain is clogged, know that a plunger isn't called a plumber's helper for nothing. But you should find out which one to use and how to use it properly. Also know when to give it up and call in reinforcements. If you know a "foreign object" went down the drain, it may be stuck in the P-trap. In such cases, unless you're very handy, you might want to call your plumber to dismantle the trap and put it back together properly.
Drains are meant to flow; if water pools in your tub, shower of sink, use baking soda and vinegar as an efficient remedy. Just follow the directions — the bubbles are much better for your drains and for the environment than caustic chemicals in commercial drain cleaners.
Main line blockages
When it comes to plumbing, remember that little drips can become big problems if you ignore them. Leaky faucets, any sounds of running water or gurgling in the pipes, damp patches in cabinets, or visual signs of mold and mildew should be cause for concern.
If water backs up into a kitchen sink or a bathtub, chances are you have an outside sewer line blockage. And because water sounds and leaks can be deceptively hard to isolate, if you hear these noises, the best course of action is to call a professional.
Home plumbing system components.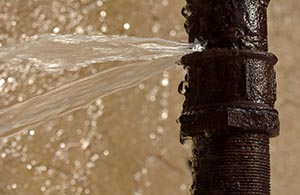 General
Corroded pipes and stuck valves – Even reliable and durable fittings, pipes and valves can be defective, deteriorate, corrode and get stuck, causing leaks or major water damage. Prevent this by having them replaced proactively.
Outdoors
Water meter – Water meters and their registers often lose accuracy as they age, so they must be replaced every 15 to 20 years.
Water main – Whether you use town or well water, sand or sediment can cause problems with toilets, faucets and other appliances. Prevent this by having us install a filter on your water main.
Outdoor hose bibs – Frozen or defective hose bibs may cause leaks inside the walls, damaging your basement. Modern hose bibs are frost-free, eliminating the need for seasonal draining or winter wrapping. If yours are not frost proof, have them replaced.
Kitchen
Kitchen sink – Water leaks are a common occurrence and if left unrepaired, can cause significant damage to the cabinet floor by promoting wood rot, warping and mold or mildew growth.
Refrigerator – The water line should have approved copper tubing, operational shut-off valves and up to date filter cartridges.
Dishwasher – Look beneath the dishwasher to verify that the pan or supply line isn't leaking on the floor or under the cabinets.
Bathroom
Faucets and toilet – A leaking faucet or running toilet can waste up to 250 gallons of water a day! Repairing or replacing them can cut down on utility and sewer bills.
Shower and tub – Inspect showers and tubs for leak-free operation and proper diverter and drain function. Also check that the shower head is clean.
Plumbing problems can happen in any home, at any time and for lots of different reasons. Knowing how to prevent them is key to preventing damage. However, taking care of plumbing problems yourself can often lead to more issues and make things much worse.
Laundry Room
Washing machine hoses – Rubber hoses dry out and crack, and can leak or burst, causing water damage. Installing new braided steel hoses can help prevent damages from happening.
Washing machine drain – Blocked washing machine drains can overflow and cause costly damage. Have the drain cleared or replaced as a preventative measure.
Dryer vent – Clean dryer vents improve the efficiency of your dryer, lower energy costs and make your home safer from fire risk.
Basement
Water heater – Drain sediment and replace the anode rod to extend the life of the unit and improve efficiency. Older hot water heaters many need to be replaced if they are showing signs of rust or are beginning to leak.
Sump pump – Improper operation or failure of a sump pump can result in water damage from heavy rain or leaking water lines. Sump pump replacement or regular maintenance is recommended to avoid these incidents.
Shut-off valves – Be certain that all family members know where the shut-off valve is and how it operates. This can prevent major damage to your home and belongings in an emergency.
Whether you have a plumbing emergency or need any help with the issues detailed here, you can rely on our licensed plumbing professionals to provide reliable service and repair – fast!
Need a Plumber? Call 800.645.4328 today!
*plumbing services not available in all areas
Petro Home Services is proud to not only serve communities in CT, NJ, NY, MA, PA, DC, RI, and MD, but we also proudly acknowledge the skills and experience of our expert team behind all resources. With insights on topics ranging from heating oil facts to common air conditioning questions, you can rely on Petro Home Services for facts and information to help you understand more about your heating, cooling and home comfort needs. This article and all articles on the Petro Home Services website have been approved by our team of home service experts.