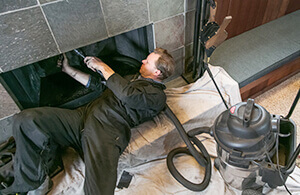 With winter steadily approaching, the fireplace season is upon us. Whether you use yours to warm your home or simply enjoy the glowing ambiance that a crackling fire provides, fireplace safety should be a priority. When your fireplace and chimney are properly prepped for the colder months, you can enjoy the fireside all season long. Here are a few winter chimney maintenance tips to keep in mind.
Get your chimney swept.
Soot, creosote buildup, and other blockages in your chimney can lead to dangerous conditions in your home, including fire. The National Fire Protection Association recommends that fireplaces, chimneys, and vents should be professionally cleaned and inspected at least once per year. Even if you do not use your fireplace often, birds and small nesting animals can create unsafe conditions, so never skip your annual chimney maintenance.
Put a cap on your chimney.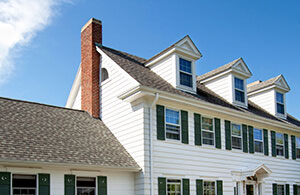 A chimney cap is a simple metal device that prevents potential damage from happening to your chimney. Small animals may try to enter your chimney, especially if it's chilly outside and a fire is roaring. Moisture can also get in and cause problems and embers can escape the chimney and create a fire on your rooftop. A chimney cap will also work to keep birds, squirrels and other trespassers out. If your cap is missing or damaged, repair or replace it right away.
Check your chimney for damage.
During your annual chimney sweep, the cleaning professional should also inspect the integrity of your fireplace as well as the entire structure for cracks, loose bricks, and missing mortar. The chimney liner will also be checked to make sure it's present and in working condition. The liner helps move the by-products of fire up and out of the chimney in a safe manner. If your chimney has no liner, the current liner was not installed correctly, or your existing liner is deteriorating, then it's time for a replacement.
Consider weatherproofing your chimney.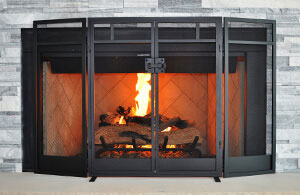 A well-built brick fireplace and chimney can last well over a century--given you've learned how to winterize a fireplace. Bricks and mortar can be susceptible to damage from water, especially in colder climates with repeated freeze-thaw cycles. Excessive moisture can also cause mortar to grow soft over time, which will eventually lead to missing mortar and loose or missing bricks. Experts recommend an application of waterproof sealant every five years to protect your chimney from the elements.
Ensure you are using proper fireplace equipment.
A cleaning professional will provide annual attention to your structure, but you'll be responsible for the daily interaction. Using the proper equipment will not only keep you safe, but it will also keep your home protected. A fireplace shield is essential as it keeps sparks and embers from leaving the fireplace and landing on a flammable surface. A proper tool set includes a poker, broom, shovel, and tongs--all necessary for maintaining logs, embers, and ash while keeping a safe distance from any flames.
Be aware of proper fire safety rules.
While all of the steps above should help you and your loved ones stay safe while using your fireplace this winter, accidents can always happen, and it is important to be prepared for a fire of any type in your home.
Step one for any home--whether you have a fireplace or not--is to have a working smoke detector in every room of the house and test each one every six months. Your home should also have at least one fire extinguisher that's kept within reach of the fireplace.
Make sure your family has an escape plan in the event of a fire and talk to your family and guests about staying safe when exiting during a fire. For example, staying low to the ground will minimize inhaling any smoke, and testing doorknobs will determine whether there's fire on the other side of the door.
Lastly, have a designated meeting spot away from the home for everyone to gather to make sure all are accounted for.
When you're ready to build your first fire of the season, be sure to contact your friendly experts at Petro Home Services first. We'll make sure your chimney, fireplace, and all included structures are in good repair and working properly so your family can enjoy the cooler months safely. Contact us to schedule an inspection and to answer any winter fireplace safety questions you may have.