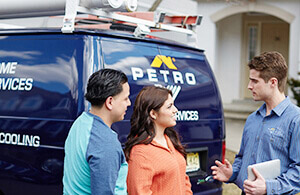 What you need to know about AC repair companies.
There are air conditioning (AC) repair services and there are air conditioning service companies – all of which are not created equal.
Companies that offer great, timely service will have great reviews and specific testimonials from real customers. This recommendation may be painfully obvious, but only choose an AC repair provider that enjoys a good reputation. Learn about their reputation by checking independent review sites and other trustworthy, independent sites.
What a full-service AC service provider should offer.
With the onset of Spring and Summer, you should consider trusted providers who offer AC service plans similar to your heating service plans.
Should you want to avoid complex ductwork construction, full-service AC providers should offer a range of ductless systems. Typically, less expensive than central AC systems and much quieter than portable window units, ductless AC systems should only be installed by full-service HVAC technical experts.
During your search for a knowledgeable, reliable full-service firm for AC service and repair, verify that the companies you evaluate offer the following features.
Fair pricing for service contracts and repair of AC systems.
Quality customer service, along with outstanding reviews and real testimonials, are vital.
Clear and concise guarantees of satisfaction and written warranties that protect you.
Employ only professional, experienced technicians to service your AC system.
Only give binding estimates of repairs after physically evaluating the AC system so you thoroughly understand the problem you face, and their solution to fix the issue.
Compare prices and options.
A major factor in your search for expert HVAC service providers is a price comparison of service contracts versus covered repairs and annual tune-ups. A reliable AC repair company will offer you a complete range of options, at least one of which, hopefully meets most of the items on your service wish list for a price you can afford.
Depending on the size of your home and family, along with the present condition of your AC system components, top company customer service staff can explain how the firm's options will work for you and your family. Your search for the "right" AC service company for you should always include these price and option comparisons.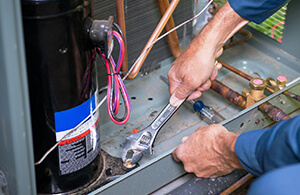 Emergency repairs.
You are probably familiar with Murphy's Law, "What can go wrong, will go wrong, and always at the worst time." For example, you can be sure your AC system will have a problem just before you expect out-of-town guests to arrive for an extended stay.
Always examine your potential service contract to learn when the firms you're considering guarantee a tech will show up in the event of an AC covered problem. Do we need to remind you that language that promises a tech will show up within a week from next Tuesday is unacceptable? Probably not.
A service contract that promises a repair technician will arrive within 24 hours from your call reporting an AC problem is acceptable, however. An AC emergency is normally not life-threatening, as may be a heating system malfunction in the cold, dark dead of winter, so you should survive if a tech cannot get to you until the next day at the earliest.
Other considerations.
After you locate a reputable, reliable AC service provider that meets, at least, basic coverage rankings, you should check out their special offers for new AC systems, eco-friendly energy conservation tips, or outstanding financial repair options, like comprehensive service contracts.
You'll have multiple options for AC repair and service firms, but search for the best companies for your needs – and follow the advice contained herein. Don't be fooled by those firms hyping very low prices. Always verify their service quality and expertise level.
Pay close attention to those companies that offer services in addition to repairs, outstanding customer service, and time-tested, proven successful results to maintain and/or repair even the most complex AC systems. You will be happy and satisfied with your provider selection.
Of course, the true professionals at Petro Home Services have all your AC and home cooling solutions covered. You can rely on Petro for special offers for the latest energy-efficient central and ductless AC systems, tune ups and emergency repairs of AC systems from all leading brands, comprehensive service plan options, and fast, reliable 24/7 service from technicians that are the best in the business.