Bioheat® fuel ‐ the fuel you need to help reduce carbon emissions.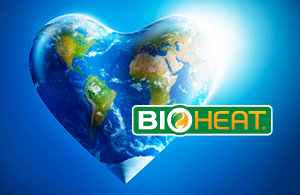 The United States and other countries throughout the world are working to reduce carbon dioxide emissions. We're taking similar steps by partnering with global, national, state and local initiatives, working towards their goals of reducing carbon emissions to net-zero by 2050. One way we are doing this is by providing cleaner, renewable Bioheat® fuel options for customers.*
What is Bioheat fuel?
Bioheat fuel is a blend of renewable biodiesel and ultra-low sulfur heating oil and a more eco-friendly alternative to traditional heating fuel and natural gas.
It is a simple choice and smart solution that results in a better heating fuel option that helps reduce carbon emissions to protect the environment.
It is safe, clean, sustainable, affordable, renewable and available to customers in certain markets.
Does Bioheat fuel work in any heating system?
Bioheat fuel can be used in any oil-fired boiler or furnace.
There is no need for new equipment, system modifications or costly replacements and it produces the same heat as any system using heating oil.
Is Bioheat fuel more expensive than regular heating oil?
The cost of a traditional gallon of heating oil versus a gallon of heating oil that is blended with biodiesel is comparable in price but just like regular heating oil, pricing can fluctuate daily.
We are currently delivering Bioheat fuel to residential and commercial customers in NY, MA, RI, NH and CT, with plans underway to make it available to customers in all the areas we serve as soon as possible.
If you want to learn more about Bioheat fuel please call us today at 800.645.4328.
*Bioheat fuel delivered up to a B20 blend. Availability is contingent upon Bioheat fuel supplies and storage facilities.
Petro Home Services is proud to not only serve communities in DC, CT, MA, MD, NJ, NY, PA, and RI but we also proudly acknowledge the skills and experience of our expert team behind all resources. With insights on topics ranging from heating oil facts to common air conditioning questions, you can rely on Petro Home Services for facts and information to help you understand more about your heating, cooling and home comfort needs. This article and all articles on the Petro Home Services website have been approved by our team of home service experts.