HVAC installation and repair services.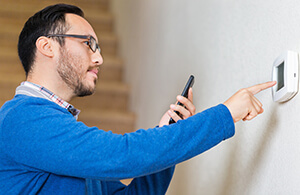 Whether you're looking for a new, efficient HVAC system for your entire home or need help with a tricky repair, our professional team is standing by! Call Petro Home Services for more information about HVAC services at 888.735.5651 today.
Petro Home Services offers HVAC services as part of our full home services offering. HVAC ‐ or Heating, Ventilation, and Air Conditioning - is a system for controlling the environment of a building or home. It is essential for keeping indoor air clean, warm in the winter, cool in the summer, and maintain proper humidity levels for optimal comfort.
HVAC installation.
HVAC units are typically designed to have a long life inside your home given that indoor air quality is essential to your health. For those reasons, you always want to be sure that any installations are performed by a licensed professional.
There are also many different types of HVAC units, and each comes with its own installation needs. These are a few common examples of HVAC unit types to get an idea of what the installation process is like:
Split Systems - The name is derived from the indoor and outdoor components being split apart. The outdoor unit contains what is commonly thought of as the air-conditioner and the indoor unit contains the blower to circulate air via ducts and the furnace if your home uses central heating.
Mini Split Systems - Much like their larger counterpart, the ductless mini-split system has a similar mechanical setup. The main difference is that multiple air handling units are placed in different rooms or zones throughout the house and therefore do not require a central network of ducts.
Heat Pumps - This type of system also uses an indoor air handler with the heat pump residing outdoors. Heating and cooling are provided either through the air or from a ground (geothermal) source. Heat is either removed or added to the air before it is circulated in the home using either through a central blower and ducts or a ductless system.
HVAC repair.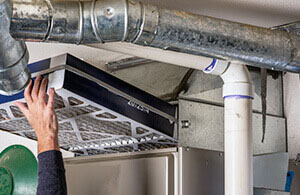 Your HVAC system is likely to be running all year long. With so much use, there are a few common problems that can crop up. Here are a few examples of common issues, and how you may be able to resolve them yourself:
No Airflow - If your furnace or AC system doesn't seem to be kicking on when you expect it to, start with the simplest source: the thermostat. Make sure it has a fresh battery (if necessary, some are hard-wired and do not require batteries), check that it's set to either "heating" or "cooling," and that you've set it to an appropriate temperature. If these do not solve the problem, it's time to call in an HVAC repair pro.
No Cold Air - If the fans are running and your thermostat is correctly set, but you're getting warm air when you expect cold, first check to make sure that the registers in your home are open. Then, check outside and make sure the outdoor unit isn't covered with weeds or debris. Lastly, replace the air filter. Let the AC run for several hours. If there's still no cooling, it's time for a repair.
No Warm Air - If you're hoping for warm air but getting a chilly breeze, start by checking the thermostat and registers in your home along with replacing the air filter. If these do not help, you'll want to contact a qualified HVAC technician.
HVAC units.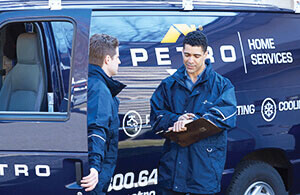 As the only name to know for home heating and cooling services, Petro offers a wide range of HVAC solutions. These are a few examples of our top models:
Trane - XR14 systems - A smart solution to your home cooling needs, the XR14 is an excellent blend of efficiency and value.
Trane AC Systems - Keep your utility bills in check while enjoying whole-home comfort.
Burnham Boilers - Known as one of the most efficient and reliable boilers in the industry, Burnham systems will provide dependable heating for your entire family.
Call Petro Home Services for more information about HVAC services at 888.735.5651 today.