ATLANTA (May 6, 2019)— Petro Home Services, a heating oil and home services provider, is renewing its partnership with Habitat for Humanity with a donation to support Habitat's work in the U.S. To kick off the 2019 partnership, Petro employees recently lent their hands and time volunteering alongside Habitat homeowners in Baltimore and Long Island.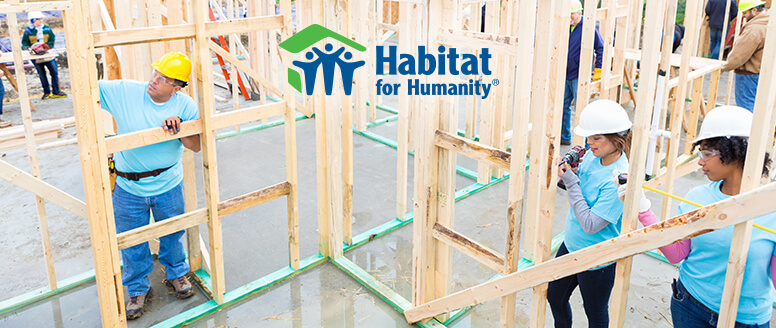 "Petro Home Services shares common values with our partner Habitat for Humanity as we're both committed to helping families feel safe and more comfortable in their homes," said Jeff Woosnam, President and Chief Executive Officer of Petro Home Services. "We're excited our local teams are getting involved again as we look forward to helping build comfortable and affordable homes in partnership with Habitat homeowners along the East Coast."
Petro Home Services and its employees will build with local Habitat organizations, including Boston, Philadelphia, Hartford, Conn., Long Island, N.Y., northern New Jersey, Portsmouth, N.H. and Woonsocket, R.I. among many others.
About Habitat for Humanity
Driven by the vision that everyone needs a decent place to live, Habitat for Humanity began in 1976 as a grassroots effort on a community farm in southern Georgia. The Christian housing organization has since grown to become a leading global nonprofit working in local communities across all 50 states in the U.S. and in more than 70 countries worldwide. Families and individuals in need of a hand up partner with Habitat for Humanity to build or improve a place they can call home. Habitat homeowners help build their own homes alongside volunteers and pay an affordable mortgage. Through financial support, volunteering or adding a voice to support affordable housing, everyone can help families achieve the strength, stability, and self-reliance they need to build better lives for themselves. Through shelter, we empower. To learn more, visit habitat.org.
About Petro Home Services
With over 100 years of experience, Petro Home Services provides home heating oil, propane, air conditioning, plumbing, generators, chimney and more services to residential East Coast customers in Connecticut, Washington DC, Maine, Maryland, Massachusetts, New Hampshire, New Jersey, New York, Pennsylvania, Rhode Island and Virginia. Petro also provides energy solutions to commercial customers throughout the company footprint.
It's this large network, resources, and local customer service professionals, drivers, and technicians that enables Petro to support all of their customers' home service needs better than any other company. All backed by around-the-clock service and support that customers can rely on — in any weather. Customers can count on Petro's team of experts to do everything it takes to put their comfort first, because they understand their home and the people in it. That's the Petro promise.