Petro team member Mike featured on the Today Show's wellness segment.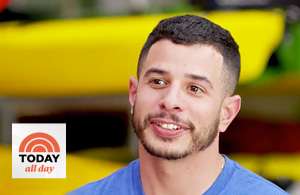 On July 1st, 2022, Mike Napoleone, a Petro Home Services team member in CT, was featured in the Wellness Today segment of NBC's Today Show.
Paddling their way along the Hudson River, Mike chatted with reporter Donna Fariza, sharing his story of a lifelong love of kayaking, the health and work benefits of the activity and how much he enjoys leading kayak tours on the Hudson River.
Watch Mike on the Today Show >
Mike explained more about his love of the water by sharing, "I was introduced to the outdoors and sports that come with it as a child by my father; but was always fascinated by the water. When I was 12 years old, I started kayaking but really gravitated back to paddle sports after graduating college, seeking more adventure. The feelings of freedom and memories of enjoying the water as a child it evokes, always draw me back to kayaking and other paddle sports. It is such an exciting yet relaxing sport. There's no room for bravado and you can let your mind relax and wander, but it always comes back to the present moment. I have been a guide on the Hudson River, it's many tributaries and along Long Island Sound for the past four years as a recreational hobby with Hudson River Recreation. They are a kayak, paddle board, and other paddle sports guide and rental service operating in the tri-state area. The Today Show contacted them about being featured on a Self-Care Summer piece that's part of the Wellness Today segment of the show and I was honored and delighted to share my story! I have been with Petro for three years and found that leading groups of all ages and abilities kayaking the Hudson River is a fantastic team building experience, which I have been able to parlay into my work at Petro in building relationships with team members and our customers. It's also a fantastic way to decompress after work. I welcome anyone to join me on the river at Hudson River Recreation and hope that everyone finds their own wellness activity that helps as much as kayaking helps me in life.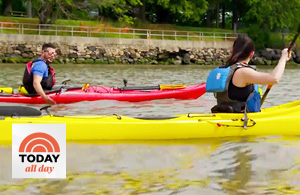 Good luck to Mike on his kayaking adventures and thank you for being such a great representative for health, wellness, community and our team!