Petro Home Services at the December NJ Community Foodbank
December 16, 2017: Plainfield, NJ - Through rain or shine, snow or sleet, Petro Employees are there! Huge shout out to this weekend's holiday volunteers at the Community Food Bank of NJ Farmer's Market at Freedom Ministry in Plainfield, NJ.
Even on the coldest days of winter, dedicated volunteers face the chill to serve our neighbors in need! #WeLoveOurVolunteers
To all of our Petro Home Services colleagues who have eagerly volunteered at one of the Farmer's Market from August through December – Thank you as we continue to serve our community and provided the gift of nourishment this holiday season.
Together we distributed over 6 skids piled high with boxes of:
Chicken Sausage
Sweet Potatoes
Carrots
Cabbage
Onions
Cartons of juice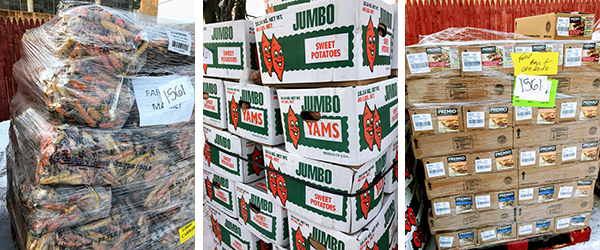 That's between 8,250 – 9,755 total pounds of food, providing 150 meals.
The church's pastor, Antoine Thomas, thanked us – "We are profoundly grateful to all of you. Thanks for taking the time out of your weekend – the church and the community are so appreciative".
One million New Jerseyans are food insecure. 300,000 of them are children. CMFB NJ fills the nutrition gap by distributing millions of pounds of fresh fruits and vegetables every year.