Petro Long Island helps provide local veterans in need with comfortable new homes.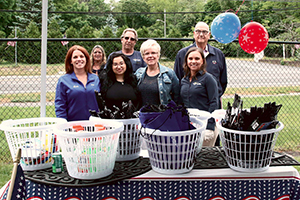 On Tuesday, May 28th, 2019 Petro team members from Long Island collected and donated 14 door mats, laundry baskets, hangers and cleaning supplies to The Vet's Place in Yaphank, NY. This was the fourth year that our team has donated to this important local community organization. Each year the team also brings along a hot meal and gets to spend the afternoon with the veterans in residence or moving in to The Vet's Place. The resident veterans were also invited to enjoy a Long Island Ducks baseball game at Petro Night, on Friday, June 21st, 2019 and we look forward to seeing them there!
As a company we are proud to do whatever we can to 'Always Remember' our nation's veterans, who gave up so much to serve the country. We have a shared responsibility to help ensure that those who have served receive appropriate support when it comes to securing decent affordable housing, training and employment opportunities, mental health assistance and other necessary services. Founded in 1989, Suffolk County United Veterans initially focused on the housing needs of the county's homeless veterans, which led to the creation of The Vet's Place. As the years passed, their mission has expanded to include a broad range of support services, all dedicated to maintaining the dignity and self-sufficiency of returning veterans. The Petro Long Island team were honored to support and partner with this vital local organization.
Thank you to our Petro team members, Suffolk County United Veterans and The Vet's Place team for everything they do to help local veterans returning from combat to civilian life find a home and integrate into the community.
Learn more about The Vet's Place and Suffolk County United Veterans