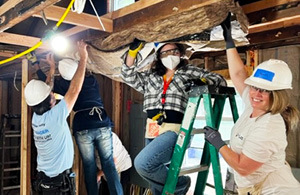 Thanks to our partnership with Habitat for Humanity, on September 15th, 2023, Petro team members from our Woodbury, East and Central Long Island, NY locations were delighted to join the Habitat for Humanity team and other volunteers at a new home build project.
Everyone had an amazing day working together to help hang insulation, lay down flooring, put up a fence and other maintenance projects building a new home in Mastic Beach, NY. This building project will help local neighbors in need live a brighter future in this new, safe affordable home.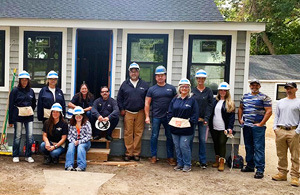 The Petro team members who volunteered were John Carbone, April Dosch, Rebecca Ellison, Kaitlyn Fox, Lauren Gonzalez, Kerri Huff, April Langevin, Chris Massaro, Mike Migliorini, Dawn Mihalek, Patricia Ortiz, George Pothos, Charlene Ramroop and Ed Thorgerson.
Thanks to everyone who worked on this project. For more information on how you can help get involved with Habitat for Humanity, visit habitat.org.
About Habitat for Humanity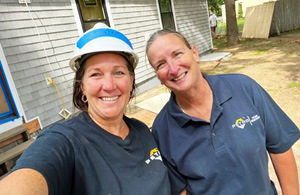 Driven by the vision that everyone needs a decent place to live, Habitat for Humanity began in 1976 as a grassroots effort on a community farm in southern Georgia. The Christian housing organization has since grown to become a leading global nonprofit working in local communities across all 50 states in the U.S. and in more than 70 countries. Families and individuals in need of a hand up partner with Habitat for Humanity to build or improve a place they can call home. Habitat homeowners help build their own homes alongside volunteers and pay an affordable mortgage. Through financial support, volunteering or adding a voice to support affordable housing, everyone can help families achieve the strength, stability and self-reliance they need to build better lives for themselves. Through shelter, we empower. To learn more, visit habitat.org.