Helping prevent hunger in Atlanta.
On Thursday, May 25th, 2023, Petro Home Services team members joined the Atlanta Community Food Bank to help with their efforts to end hunger in the local community.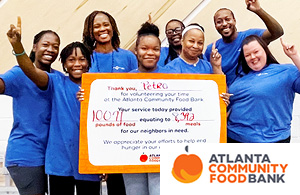 Our team helped collect over 10,000 pounds of food which equates to providing 8,392 meals to help nourish our Atlanta neighbors in need. Our volunteer team included Judith Bastian, Jennifer Kardel, Kimberly King, Emanuel McIntyre, Liz Mills, Madisen Taylor and friends and family members Devin Randall, Jr. and Jackie Thigpen.
Partnering with Feeding America, the nation's leading domestic hunger relief charity, Atlanta Community Food Bank works with more than 700 non-profit partners to distribute over eight million meals across metro Atlanta and north Georgia every month in their mission to fight hunger by engaging, educating and empowering the community.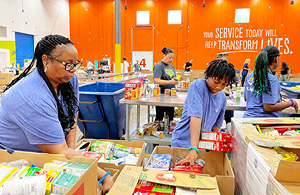 The Petro team was delighted to help the organization in their mission to end hunger in Atlanta
Thanks to everyone involved for their help
Learn more about Atlanta Community Food Bank