Helping Island Harvest Stamp Out Hunger.
On Saturday, May 13, 2023, Petro team members were excited to volunteer at the National Letter Carriers Stamp Out Hunger Food Drive, supporting the Island Harvest Foodbank to help nourish Long Island neighbors in need in Bethpage, NY.
Petro was one of many featured sponsors of the event which had a goal to collect 1,000,000 pounds of food! On this day our volunteers and many others who attended, contributed to this goal by sorting hundreds of pounds of food items and placed them in bins after careful inspection for distribution throughout Long Island communities. Our volunteer team included, Elvia Cahill, Carol Cavallaro, Lauren Gonzalez, Donna Jackson, April Langevin, Farhens Lauriston, Megan Midura, Dawn Mihalek, Charlene Ramroop and Kim Wright.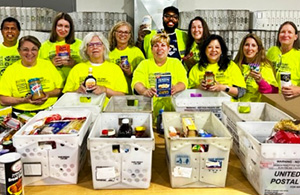 Partnering with Feeding America, the largest charity working to end hunger in the United States, Island Harvest works hard every day to nourish Long Island's future. The Island Harvest Food Bank is a leading hunger-relief organization with a mission to end hunger and reduce food waste on Long Island. They accomplish this through efficient food and product collection and distribution systems, enhanced hunger awareness and nutrition education programs, a Workforce Skills Development Institute, targeted services for specific populations, outreach activities and advocacy initiatives.
The Petro team had a lot of fun and was delighted to be a part of helping this vital local organization give back to the communities they serve.
Thanks to everyone involved for their help.
Learn more about Island Harvest and how you can volunteer to help with their programs.