Thanks to our partnership with Habitat for Humanity®, Petro team members in NY were excited to participate in the following projects to help paint a nursery, build a new home and rehab an older home in their local communities: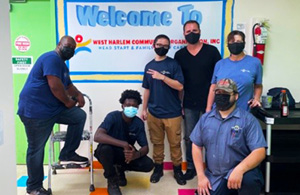 On Friday, August 27th, 2021, our team joined other volunteers in helping the Habitat for Humanity New York City and West Harlem Community Organization paint the play yard, doors and walls outside classrooms of a West Harlem, NY nursery.
The Petro team participated in a Habitat for Humanity® of Suffolk Home Build, in East Patchogue, NY on Friday, August 27th, 2021, sheet rocking the walls both upstairs and downstairs in the new home.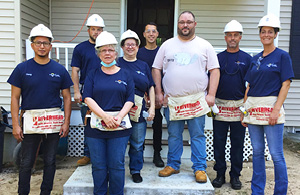 On Monday, August 30th, 2021, the local Petro team helped Habitat for Humanity of Dutchess County with a home rehabilitation project in Poughkeepsie, NY. Also known as a "zombie" house project, the home had been vacant for over 17 years, often occupied by squatters, but was being revitalized to restore the neighborhood and provide a new living space for a local family.
Our teams were involved in a range of restoration projects. These included carpentry (installing headers for the doorways), installing hurricane nailers in the rafters, installing cement board for the soon-to-be-laid tile floors, yard clean up, clean out of landscaping and the garbage strewn about the property.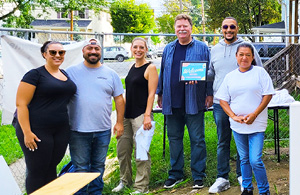 They also removed an old wooden fence around the property and installed all new posts for a new fence.
Thanks to all the Petro team members who worked on these important projects to help local communities and neighbors in need.