Great Job! The results of the One Warm Coat drive are unbelievable!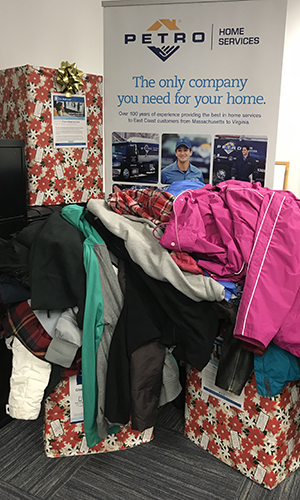 December 21, 2017: South Plainfield, NJ - Thank you to all of Petro Home Services Team Members, customers, and community members for contributing to our One Warm Coats Drive.
All items collected for the drive were donated to Table of Hope, a community clothes closet, soup kitchen and food pantry. Table of Hope serves a FREE hot meal in a comfortable, welcoming atmosphere for individuals/families in need. Information for those who want to volunteer is below.
Here are the numbers collected:
Over 320 coats donated!
That's 22, extra-large 39 Gallon Bags filled to the brim with Coats, Mittens, Scarves, and Clothing for adults and kids!
Donations were also received from area residents and companies such as Amazon and Sivantos Group.
"Thank you, we are so grateful and blessed that Petro [Home Services] donated all of these coats!! You just don't understand how much we needed them. Our supply was depleted and just like an angel, you guys swooped in and delivered. The folks here are in such need, one coat, one hat…it all makes a difference to that one person." – Rose Farrell, Table of Hope Volunteer Coordinator.
Table of Hope is located at:
Bethel Church,
59 Spring Street,
Morristown, NJ