Every year, when the weather starts warming up, it's smart to start thinking and planning for ways to entertain and enjoy your home's outdoor areas.
Whether it's grilling, sitting by the pool, or lounging on the patio, there are many options for making outdoor entertainment and leisure time comfortable. And, propane is there to power your outdoor lifestyle every step of the way.
As an inexpensive and safe fuel source, you can make all your outdoor entertainment and relaxation dreams a reality with propane systems. With the right appliances and systems, your entire property can become a space for outdoor enjoyment and entertaining.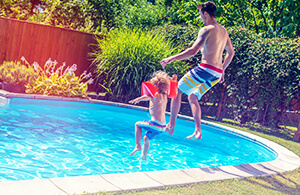 Discover all the options that are available to you:
Propane pool and hot tub/spa heaters.
A heated pool is obviously a great thing for colder temperatures. But for warmer months, a heated pool offers a reliably comfortable swim, no matter the twists and turns that the weather can bring.
With a propane-based pool heating system, you can keep water at any temperature that is comfortable for you. Many people enjoy a pool that is around 70 degrees or more for the right balance of refreshment and relaxation.
If you've got a hot tub, you're in luck! The same type of propane heating system you use for a pool can be used for a hot tub as well.
With propane-heated pools and hot tubs, you can extend the available months to swim and soak throughout the early spring, summer, and into the late fall. The best part is that propane heaters are smaller compared to their electric counterparts, and they heat up water much more quickly.
Propane patio heaters.
Patio heaters are a growing trend for people who want to be able to entertain patio-side throughout most of the year. Some are so powerful and efficient that you can even enjoy the outdoors on a crisp late fall day.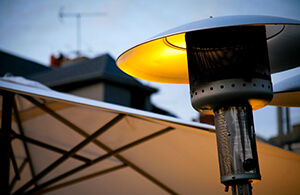 Wall-mounted or ceiling-mounted patio heating units are perfect for dining outside on a chilly night. As propane is an efficient and inexpensive fuel source, you can heat up large outdoor spaces without worrying about breaking the bank.
Propane outdoor fireplaces and fire pits.
Fireplaces and fire pits are great additions to any home, but the cleanup is anything but desirable.
That's why propane fireplaces and fire pits are the way to go. With a clean and smokeless burn, you won't worry about passing winds blowing smoke in your face. Plus, as a safer alternative to wood, they can be turned off on a dime as opposed to waiting for embers to die down, as with a wood-burning pit or fireplace.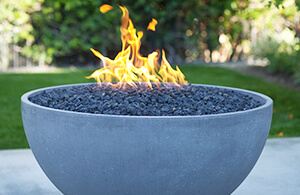 There's also the convenience of propane-fueled fireplaces and fire pits. With wood-fired fireplaces and pits, you must continually fuel the fire with fresh wood (and make sure you always have it stocked). With propane systems, you can focus on enjoying your time by the fire without pausing to feed it.
Propane grills and outdoor kitchen.
Considering a propane grill? Now you're cooking with gas!
Outdoor kitchens and grills are practically the definition of summer. However, traditionally, they can be a messy way of preparing food. With propane, there is no more clean-up of charcoal or wood ash. With propane-fueled grills and outdoor ovens, clean-up is a snap.
Propane grills and propane-powered outdoor kitchens are also safer. Whereas a charcoal-fueled grill takes time to cool down, a propane-fired unit turns off immediately.
Additionally, with propane delivery services like those provided by Petro Home Services, you can forget about running out to buy wood or charcoal ever again!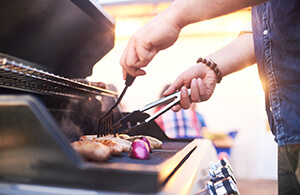 Pool house, guest cottage and outbuildings.
If you're someone who believes in truly optimizing the use of your outdoor space, propane is your answer.
Pool houses, guest cottages, and other outbuildings are often expensive to heat and maintain. Electric units suck up power and do not offer a cost-effective or efficient way of heating these spaces.
Propane, on the other hand, allows you to efficiently and effectively heat and maintain the temperatures of these outbuildings. For pool parties, sleepovers, and extended stays with guests, propane is an inexpensive way to keep your guest cottage, pool house, or other outbuildings comfortable.
For all your propane needs, you can rely on your Petro Home Services team
If you're ready to start thinking about optimizing your outdoor spaces, Petro Home Services can help.
From design and consultation to installation and maintenance, Petro offers a full-service, year-round solutions for all your propane needs. Most importantly, Petro will sign you up for regular propane delivery so that you never run out.
Whether you're looking to power outdoor appliances and systems, or make that outbuilding into a comfortable living space, Petro Home Services can offer a full solution for efficient, clean power, heating solutions, and propane delivery. Call us today at 888.735.5651!