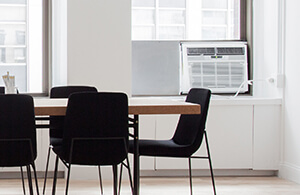 Pros and cons of ductless mini split and window AC units.
To keep your home (and you) cool and comfortable throughout the summer, you most likely need air conditioning. If you live in a smaller home, a home with no ductwork, or a rental property, often central AC is not an option. This leaves you with two other options:
Window AC units
Ductless (mini-split) AC systems
Both of these cooling systems offer the following pros and cons that deliver advantages and disadvantages for any homeowner or renter:
Window AC units.
Pros
Inexpensive to buy – compared to ductless and central air conditioning systems.
Easy to install – typically, a do-it-yourself (DIY) project, for most users.
Cons
Tend to be noisy – the more you pay for window units, the less the noise. But, even more expensive window units, typically, are rather noisy, particularly, when going through their dehumidifying cycle.
They can lead to lack of security – since burglars can remove window ACs from the outside, they could enter your home through the open window.
Window ACs reduce natural light in your home – as you fill a window with an AC unit, you'll lessen the natural light your home's interior usually enjoys.
They are not attractive – manufacturers always choose efficiency over aesthetics for window units.
Ductless AC systems.
Pros
May cool multiple rooms – can manage up to four units when connected to one outdoor condenser (you can add another outside evaporator) to cool more rooms.
You'll have install flexibility – you can hang units from walls or suspend them from ceilings while managing them all with a remote-control device.
Whisper quiet units – unlike noisy window ACs.
They keep you safer from outside threats – since ductless units only need a small hole (impossible for a human burglar to enter) for installation.
Cons
They cost more than window units (up to twice the cost) – possibly over $1,500 per ton of air cooling ability.
Needs a trained technician to install ductless ACs – while these don't need ductwork, they must be installed by qualified techs.
This summary of ductless units versus window AC units points out the major advantages and disadvantages of each option. There are other factors to consider, such as window unit portability, but the other pros/cons tend to be less important than the above items.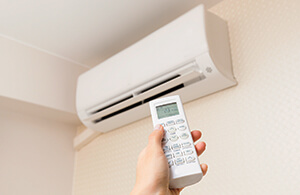 Ductless AC unit additional advantages.
Ductless mini-split AC units may be ideal for homes that cannot accommodate a central AC system or if you have an affordability issue. In these cases, a ductless cooling system may be the best option for you.
For example, homes without full basements (only crawl space) or built on concrete slab foundations may not accommodate the ductwork necessary for central AC installation. Or, if you have an older central AC system, it could be energy-inefficient, costing you hundreds of dollars more annually than eco-friendly ductless mini-split AC systems.
Although the initial price for a ductless ac unit is far greater than that of a window ac unit, the eventual utility bills and longevity of ductless mini split units are far less. Consider the long-term goals of your purchase and the intended time of use for your air conditioner units before purchasing.
Ductless AC unit other cons.
There appear to be no additional cons, except for above-market installation charges. Your research will display typical local market fees for ductless AC installs.
Window unit additional advantages.
There are no major additional advantages, other than those previously noted. Initial cost remains the most significant advantage of window AC units, as well as the flexibility for those who move often.
Window AC units other cons.
Another disadvantage of window units includes the inability to have service plans that offer 24/7 tech repair, along with DIY installation, you might face DIY repairs. Window ACs typically come with a "you break it, you own it" philosophy, regardless of what you paid for your window units.
Count on us for all of your ductless AC system needs.
Ductless AC systems, when central cooling systems are not appropriate for home design or budgetary reasons, are ideal for home use. You will avoid the hassle of installing complex ductwork, avoid the noisy, bulky window units, and, if you choose a company like Petro Home Services, you can rely on them for fast, safe installation by trained, insured, experienced technicians that are the best in the business.
Energy-efficient ductless AC units are quiet (with condensers and compressors installed outside your home), may cool more than one room (depending on the design of your home), and deliver refrigerant through unobtrusive slim copper tubing for long-lasting, trouble-free operation. Your home does not need a basement, attic, or existing ductwork.
Since typical installations include cooling units mounted high on an interior wall (out of the way), small ductless air handlers will "fit in" with any décor, and you also will not have bulky, ugly (how else can we put it?) window units hanging out of your windows. The curb appeal of your home will not be negatively damaged with ductless AC systems, while also losing less than five percent cooling (trapped in your ductwork).
Some home cooling equipment professionals, like Petro, offer financing options so your investment in long-term ductless AC solutions will not hinder the family budget to enjoy the quiet cooling of ductless AC. These financing options eliminate any concerns you have regarding the affordability of outstanding ductless cooling systems.