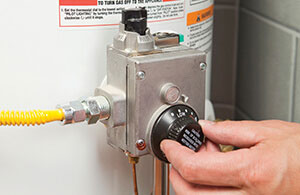 Summer is great time to take a break, soak up the sun and enjoy the outdoors with friends and family. However, with rising temperatures comes an increase in water usage. According to the EPA, homeowners use between 30 to 70 percent of their water outdoors –and more than 50 percent of it goes to waste due to evaporation, overwatering, wind and more. So, it's important to tackle basic plumbing inspections and take simple steps to reduce water consumption. Here are six easy plumbing tips to prevent problems and save you money this summer.
1. Turn down your hot water heater while away
One of the easiest ways to save money on your utility bills is to turn down the temperature on your hot water heater when you go on vacation. If your family isn't home, there's no need for keeping a full tank of water continuously hot, so turning it down can easily save you on your energy costs.
2. Inspect for leaks
Summer is the best time to check for leaks as they can often become harder to detect in the winter. Additionally, ice and snow during the upcoming colder months can make overlooked issues that much worse. Fixing a leaky faucet, sink, or toilet now can easily save you hundreds of dollars over the next year in water costs. If you aren't sure where to begin, call a licensed professional to inspect and easily guide you through any problem areas inside your home.
3. Test your sump pump
If you're located in an area where flooding occurs, a sump pump is vital to safeguard the foundation of your home. Usually located in the lowest part of your basement or crawl space, this nifty device pumps water out of flooded basements. As part of your plumbing maintenance, you'll want to test the sump pump by pouring a bucket of water in it to ensure it is working correctly. You also need to be sure that the unit has power and is turned on in preparation for surprise summer thunderstorms and any unexpected flooding they cause.
4. Check your washing machine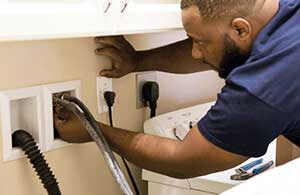 The summer season means more outdoor activities for the entire family – and more loads of laundry. Be sure to inspect your washing machine and make sure it's working to its full potential. Also, it is recommended to replace your hoses at least once every three years. Call a professional to inspect your current hose for leaks, cracks, or bulges to reduce the chance of a flood.
5. Avoid clogged sinks, toilets, and drains
The abundance of fresh fruits and vegetables during the summer season is sweet and enjoyable for you and your family, but your kitchen sink probably doesn't agree. Be sure to avoid clogging drains in your kitchen sink after summer cookouts and parties. Also, if you notice any issues with your toilet or tub after a heavy rainstorm, be sure to call a professional, as it could indicate a serious problem with your plumbing.
6. Check sprinkler systems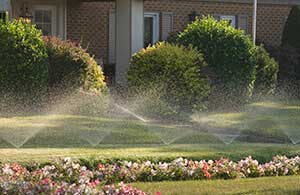 Scorching temperatures during the summer months can put a strain on your outdoor sprinkler system. Make sure to thoroughly check and clean your sprinkler heads to prevent issues. Irrigation leaks can lead to enormous water bills, so preventative inspections and maintenance are crucial in saving you stress and money.
Also, be mindful of what time of day you water your lawn. The best time is usually in the early morning or around dusk in the evening when water is less likely to evaporate before it soaks into the ground. If you have an automatic timer for your sprinkler system, be sure to set it to one of these time periods, as it will utilize less water and can save you money over the long haul.
Need assistance? We can help!
Aren't sure how to tackle some of these tips, or simply want to leave the process to the professionals? We can help! See our wide variety of plumbing services or contact a Petro Home Services professional now to schedule your appointment.